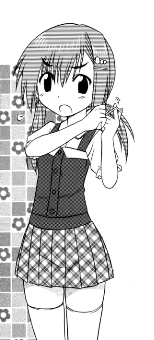 Mika Hatoyama is one of the characters in the series.
Character Overview
Edit
Mika Hatoyama is the third and youngest daughter of the Hatoyama family. Even though she is still a 5th grader, she acts more like a teenager than Miyu does. It also seems like she does most of the house chores, as it has been mentioned that she also cooks Miyu's meals daily, especially her lunch. Because of these great differences in characteristics, it is as if she's the older daughter in the family compared to Miyu.
She loves idols and fashion as if she herself is already a teenager. She even signed up Miyu into an Idol contest for her own amusement and obsession. This may also mean that she idolizes her sister for her beauty that is on par with an idol.