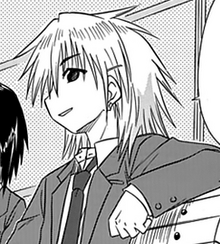 Sakuya Hidaki is one of the characters of the series.
Character Overview
Edit
Attending Kamome high, the same school as his best friends Yuuto Ryoukami and Touma Tokigawa, Sakuya aims to become a professional stand-up comedian, mostly as the "boke". An all-around idiot, one of his most notable bad habits is hitting on any girl he finds attractive or cute, even when he doesn't truly prepare himself to look the best in front of them. This habit is commmonly punished by the girls, as it is obviously seen as disgusting and repulsive. With the humor of his unsuccessful love life, he may truly have the potential of becoming the perfect "boke" within a stand-up comedy group of most kinds. As a part of the acting club, Sakuya tries his comedic gimicks during practice and even during performances from time to time, but they fail to amuse all.
His childhood friend, Itsuki Iwatsuki, always scolds him as he relies on her too frequently, and also because of how he acts. Though he may be on the hunt for a girl, he doesn't notice the romantic feelings of this childhood friend. Noted by Yuuto, Itsuki is technically "a golden-road" of all girls for many men, due to most of her characteristics, but Sakuya doesn't take note of this at all.