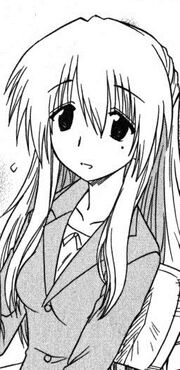 Tomoe Miyashiro is one of the characters of the series.
Character Overview
Edit
Tomoe is a young teacher who teaches English at Tsubame High. She is also the teacher in charge of the Cahe Detective club. She is very kind and gentle, but is also extremely clumsy to the point that she is not able to do any tasks in the club, except for pouring tea, without making a mess afterwards. Raised as a proper lady during her ealier years, she also has a crush, just like any young female would, on another male teacher at the school, though it seems there is no progress romantically between them.
During her previous years of teaching at Tsubame high, she was the teacher in charge of the original Cafe club until it was disbanded, in the year previous to the creation of the Cahe club, because of insufficient members, as most of them were already seniors at the school and graduating. Now, she takes charge of the Cahe club in order to keep those bits of memories of the Cafe club.