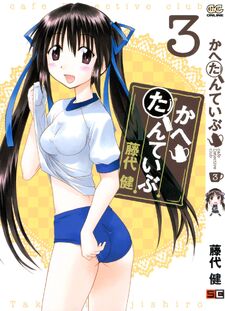 Volume three of the series Cafe Detective Club.
Released: March 22, 2012
Cover: Miyu Hatoyama (Tsubame PE uniform)
With the first semester done and the summer beginning, the Cahe Detective Club heads out on its first ever trip, which is to a beautiful beach side. But they are not here to play around or learn from those seaside diners, but to participate in an event called "Mystery Night". And by ways of coincidences, the theatre group of Kamome high is the lead cast of this event. Aside from the Cahe club, other clubs "enjoy" the summer heat in their own ends of entertainment.
After coming back from Mystery Night though, Emina is in for a big surprise once she realizes...