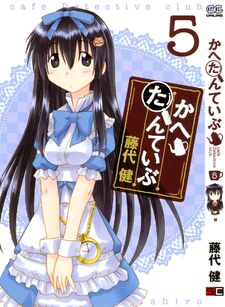 Volume five of the series Cafe Detective Club.
Released: July 22, 2013
Cover: Shizuka Hanazono (Tsubame Culture Festival costume)
"BANG!!"...And the sports festival begins with many haphazard events and odd-sided teams. With the Cahe club split into two, between two of the three teams of the first year classes, each side shows their toughs. After all the uproar, the club simmers down by deciding on a mascot for the club. Eventually, the mascot is based upon the cute Emina, named "Cahe-tan". But there is no time to rest, as the cultural fest soon follows. And by the time it begins, there are many suprises to come from not only the Cahe club, but also from other classes and two certain men from Kamome, especially one who usually struts with his blonde hair, hitting on girls...